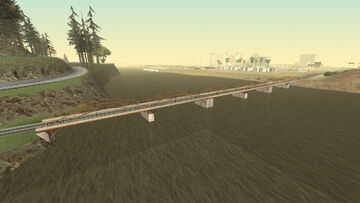 Frederick Bridge is a rail bridge in Grand Theft Auto: San Andreas that connects the northeastern portion of Red County with the southeastern portion of Las Venturas in the State of San Andreas. Part of the Brown Streak Railroad, it is designed as a lengthy through arch bridge spanning the mouth of the San Andreas Sound.
Collectibles
One Oyster - Underneath the bridge.
Trivia
The support beams over the bridge's span are actually hollow.
If the player exits the bridge on the Las Venturas side, the screen will briefly say "Red County", when in reality it should say "Las Venturas".