This article or section contains insufficient information and is considered as a Stub. You can help the GTA Wiki by expanding it as much as you can.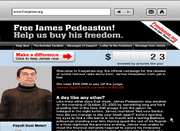 freejames.org is a website featured in Grand Theft Auto IV.
In this website, James Pedeaston is stated to have been arrested on child molestation charges in Bali, Indonesia in 2003 and the website asks people to donate towards the $100,000 needed to release him from the jail (so far they have collected only $23). The website also asks people to help James by sending a letter to the president of Indonesia, create T-Shirts, visit James in Bali, and also some extreme methods such as boycotting Bali.
Ad blocker interference detected!
Wikia is a free-to-use site that makes money from advertising. We have a modified experience for viewers using ad blockers

Wikia is not accessible if you've made further modifications. Remove the custom ad blocker rule(s) and the page will load as expected.