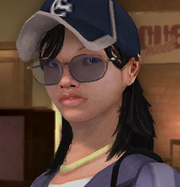 From Russia Without Love is the name used by a female Russian love-meet.net user in Grand Theft Auto IV. No matter how many times Niko Bellic contacts her, she will never date him.
She can be seen on a wall around the corner of the hospital near Star Junction, and she appears to be a model. Also, based on her profile, she appears to be a gold digger and preys on wealthy older men, stating she wants a "much older guy" with "little to no kin".
Trivia
Her name references the James Bond movie, From Russia With Love.
Gallery
Ad blocker interference detected!
Wikia is a free-to-use site that makes money from advertising. We have a modified experience for viewers using ad blockers

Wikia is not accessible if you've made further modifications. Remove the custom ad blocker rule(s) and the page will load as expected.