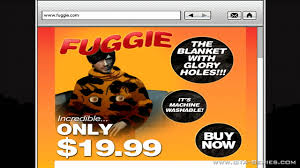 The Fuggie is a large overcoat with conveniently placed glory holes around the private areas and nipples. The Fuggie is an obvious parody of the Snuggie, a ridiculous looking housecoat that is usually bashed on the internet.
It is also machine washable and comes in one size which fits "at least a full family".
It is only $19.99 but $60 for shipping (but cannot be purchased by the player). Its website, Fuggie.com, can be accessed in The Ballad of Gay Tony.
The Fuggie is available in zebra, leopard, and cougar designs.
Ad blocker interference detected!
Wikia is a free-to-use site that makes money from advertising. We have a modified experience for viewers using ad blockers

Wikia is not accessible if you've made further modifications. Remove the custom ad blocker rule(s) and the page will load as expected.