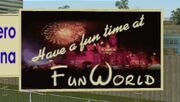 Fun World
is a theme park mentioned in
Grand Theft Auto: Vice City
.
Description
Billboards advertising Fun World can be seen around Escobar International Airport. The theme park may be located in or around Vice City, though it doesn't actually appear in-game. Its logo is a reference to the Disneyland theme park, or more accurately, Disney World, as the latter is located in Florida.
Trivia
The large mansion pictured on the billboard closely resembles the Walt Disney Castle in Disney World.
Ad blocker interference detected!
Wikia is a free-to-use site that makes money from advertising. We have a modified experience for viewers using ad blockers

Wikia is not accessible if you've made further modifications. Remove the custom ad blocker rule(s) and the page will load as expected.