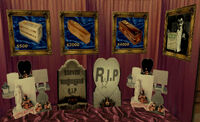 Funeraria Romero
is an undertaker business that features in
Grand Theft Auto: Vice City
in
Little Haiti
. It is implied that the corpses are used in a nearby butchers shop called
Carnicero Romero
, as the shop has an arm, a brain, and a box reading "Human Organ - for transplant" on display in the shop window. This is further reinforced by the fact that the skeleton in the open grave behind Funeraria Romero has an arm missing. In the mission
Two Bit Hit
,
Tommy
must kill a
Haitian
warlord during the funeral of another Haitian. The warlord and other Haitian gang members are on the street, outside the shop.
Trivia
The R in the "R.I.P" on one of the headstones is the Rockstar Games logo.
Another headstone reads "Steven Mulholland R.I.P", who's the map designer of Vice City and San Andreas, and was very much alive during the development of both games.
One of the pictures on display in the window is a shot of actor Bela Lugosi, portraying the title role in the original Dracula film from 1931. His face has been vandalised with a marker pen and the image has been manipulated, so that he's holding a Funeraria Romero sign and has the Rockstar Games logo on his cloak.
Gallery