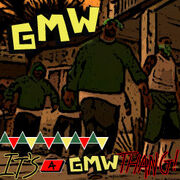 GMW (Ganton's Most Wanted) is a rap group in Grand Theft Auto: San Andreas, most likely based on the real rap group Compton's Most Wanted. They are produced by Blastin' Fools Records. They have only one known album, named GMW: It's a GMW Thang! They cannot be seen nor heard in the game, but are featured on its Forgotten Legends of West Coast Rap promotional website.
Trivia
The members of the band are either members of the Grove Street Families, or just dress as such.
Given that one of Compton's Most Wanted's Hood Took Me Under appears on Radio Los Santos, presumably it is sung by GMW in the San Andreas universe, though Compton's Most Wanted is mentioned by name on Radio Los Santos anyway.