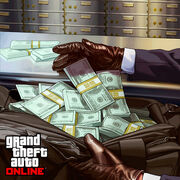 The GTA$ Stimulus Package was an update for Grand Theft Auto Online.
The package was an apology gift from Rockstar Games to the players of GTA Online who suffered technical issues in the game, and  presented players with $0.5 million. It was announced on October 11th, 2013.
Rockstar originally planned to be release in two parts throughout October, with each part of the package will contain $250000. The package would be only available for players who played at least once in October. On October 25th, Rockstar announced of delaying the package due to their work on fixing the game's progress loss issues.
The package was released November 6th in title update 1.05, giving GTA Online players $500,000.
References