"Not just for parolees and perverts anymore, a fleet of buses at the Dashound Bus Center in Downtown LS becomes a target for two teams of hoods. They compete to get buses back to their bases on either side of the city, while trying to stop the other team from doing the same."
―-Match description
GTA: All Abhorred is a Capture:GTA job featured in Grand Theft Auto Online.
The capture takes place around Mission Row, Textile City and Pillbox Hill. Players must compete to collect the most amount of coaches and successfully deliver them back to their base.
The team bases are located at the construction site in Alta, and the car park in Pillbox Hill opposite Ammu-nation.
To get around, players usually use a wide array of transportation. Vans and pick-ups like the Speedo and Sadler are present, as well as 4 Door Sedans like the Schafter and Fugitive. Several Dashounds are present at the Dashound Bus Center, with the most being present in the diagonal parking spaces, and others located in the car-park at the front.
Weapons present are quite powerful, like the Pump Shotgun, Sniper Rifle, Assault Rifle and Micro SMG.
Map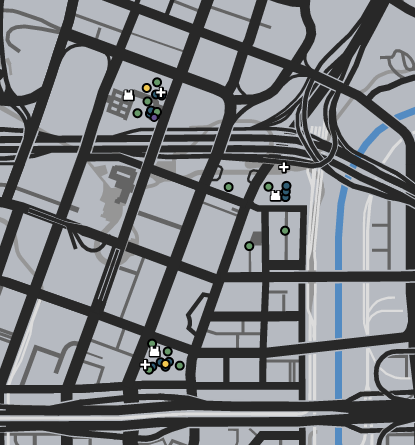 Ad blocker interference detected!
Wikia is a free-to-use site that makes money from advertising. We have a modified experience for viewers using ad blockers

Wikia is not accessible if you've made further modifications. Remove the custom ad blocker rule(s) and the page will load as expected.