Ad blocker interference detected!
Wikia is a free-to-use site that makes money from advertising. We have a modified experience for viewers using ad blockers

Wikia is not accessible if you've made further modifications. Remove the custom ad blocker rule(s) and the page will load as expected.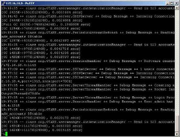 GTADS is short for Grand Theft Auto Dedicated Server. GTADS was originally written as a chat server/client structure to allow players of GTA1 to play each other without having to deal with the directplay ports over the internet. Right now GTADS plans to support a wide range of LAN based games such as GTA2, Twisted Metal 2, and Doom just to name a few. GTADS is java based a such can be run on a wide variety of operating systems and hardware, and keeps the possibilities of supporting non-Windows games open for the future.
The purpose of GTADS is to allow many things for gamers, first of all giving them a choice in how they want to play their games online. There is no tie ins with using GTADS, just a choice. Any user is free to host their own own unique server and players may connect to any GTADS server they would prefer. Secondly, it will give many LAN games a second life on the Internet as things like NAT firewalls and routers have become commonplace now making gameplay difficult and cumbersome for people.
Features
Chatroom environment for players to talk and meet
FriendsLists for users to keep track of when their friends sign on/off
Instant Message support for sending private messages between users
Proxy that binds multiple game ports into 1 for simplistic gameplay
Consistent Join/Host interface for setting up multiplayer sessions
Server commands for the Admin to use from the client
Java based Server for running server on multiple OS/Platforms
Easy to use config file for changing server settings
Weblinks