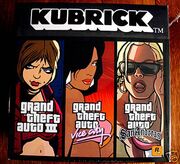 GTA Kubrick Sets are a limited edition collection of toy figures depicting Grand Theft Auto III Era figures released by the Japanese company MediCom (Which is associated with the Kubrick name). Only 3000 were produced, and were released shortly after Liberty City Stories hit shelves.
GTA III Set
The first set released, the GTA III Kubrick set contained the figures Claude, Salvatore Leone, 8-Ball, Misty, and Donald Love. It included weapons and items such as baseball bat, detonator, and a notepad.
GTA Vice City Set
The second set, the Vice City Kubrick set contained the figures Tommy Vercetti, Lance Vance, Candy Suxxx, Ricardo Diaz, and Ken Rosenberg. Items that were included with the set are shotgun, M16, camera, and bottle of champagne.
GTA San Andreas Set
The third and final set, the San Andreas set contained the figures Carl Johnson, Officer Tenpenny, Big Smoke, Ryder, and The Truth. Items that were contained in the set were the AK-47, bong, blunt, Micro Uzi, and Truth's "Green Goo".
Gallery