Grand Theft Auto: Vice City Main Theme

"The depth of this game is unparalleled; there are hordes of side quests and missions and cool little easter eggs. You need to follow the main story in order to open up the whole city and gain access to property acquisition, but you can still spend hours just wandering around getting into trouble."
―Ben Silverman, Game Revolution.
GAME


Grand Theft Auto: Vice City

Developer
Rockstar North
Publisher
Rockstar Games
Engine
RenderWare
Release dates
PS2


27th October 2002
8th November 2002
8th November 2002
20th May 2004


---

PC
12th May 2003
15th May 2003
20th May 2003
25th September 2003


---

Xbox
11th April 2003
2nd January 2004
2nd January 2004
29th July 2004


---

iOS
6th December 2012


---

Android
6th December 2012


---

PS4
6th December 2015


Platforms
PlayStation 2
PlayStation 4
Xbox
Personal Computer
iOS Devices
Android Devices
Ratings

ESRB: M
BBFC: 18
OFLC: MA 15+
OFLC (NZ): R18
USK: 16+
aDeSe: +18
VET/SFB: 18 (Square)
DJCTQ: 18

Protagonist
Tommy Vercetti
Location
Vice City
Year
1986
Grand Theft Auto: Vice City (also referred to as GTA Vice City, Vice City and GTAVC), is the second game in the 3D Universe.
GTA Vice City is set in Vice City, Florida (USA) in 1986, and concerns the exploits of protagonist Tommy Vercetti as he rises to become Vice City's major criminal power. The game's events follow on from Grand Theft Auto: Vice City Stories.
Designed by Rockstar North and published by Rockstar Games, it debuted in North America on October 27, 2002 for PlayStation 2 and quickly became the best-selling video game of the year. Following this success, GTA Vice City saw releases in Europe, Australia and Japan, and became available on PC and Xbox. Later, Rockstar Vienna packaged the game with its predecessor, GTA III, and sold it as the Grand Theft Auto: Double Pack for Xbox, and finally it debuted for iOS and Android December 6, 2012 as a celebration of its 10-year anniversary. As of April 2015, GTA Vice City is the fourth best-selling PlayStation 2 game of all time in the United States. GTA Vice City also appeared on the Japanese magazine Famitsu's readers' list of 100 all-time favorite videogames in 2006.
It uses a tweaked version of the Renderware game engine used by GTA III, and similarly presents a huge cityscape, fully populated with buildings (from hotels to skyscrapers), vehicles (cars, motorcycles, boats, helicopters, and planes) and people.
Storyline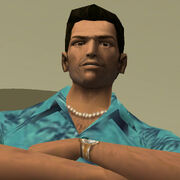 From the official site:
"Welcome to Vice City. Welcome to the 1980s.
Having just made it back onto the streets of Liberty City after a long stretch in maximum security prison, Tommy Vercetti is sent to Vice City by his old boss, Sonny Forelli. They were understandably nervous about his reappearance in Liberty City, so a trip down south seemed like a good idea. But all does not go smoothly upon his arrival in the glamorous, hedonistic metropolis of Vice City. He's set up and is left with no money and no merchandise. Sonny wants his money back, but the biker gangs, Cuban gangsters, and corrupt politicians stand in his way. Most if not all of Vice City seems to want Tommy dead. His only answer is to fight back and take over the city himself."
After being released from prison, Forelli Crime Family overlord Sonny Forelli sends Tommy Vercetti to Vice City in order to gain profit off the uprising of the drug trade in the city.
After arriving in Vice City, Tommy, Harry and Lee are introduced to Ken Rosenberg who is tasked with driving them to a drug deal with the Vance brothers. But the deal is ambushed and one of the brothers along with Harry and Lee are killed and the money and cocaine are stolen.
After Tommy and Rosenberg discuss what they plan to do, Tommy calls Sonny and tells him the deal was a setup. After some hostile words, Sonny agrees to let Tommy handle the situation while Rosenberg tells Tommy about Juan Cortez, a retired colonel who helped set up the deal. After meeting him, his daughter Mercedes Cortez introduces him to the many of the more popular guests at the party before asking him to take her to the The Pole Position Club.
Rosenberg then tells Tommy that Kent Paul may know what became of Tommy's merchandise and Paul tells Tommy that Leo Teal may know what happened. Tommy confronts Teal and beats him to death before being confronted by Lance Vance, the third survivor in the botched deal. Tommy and Lance form an alliance and vow to get the money and drugs back.
Rosenberg then introduces Tommy to Avery Carrington, a property developer. Avery gives Tommy work and in exchange offers to protect Tommy from any threats to his operation.
Tommy is then offered some work from Cortez, who has Tommy kill Gonzalez, a former right-hand who is responsible for botching the deal. Tommy kills Gonzalez and goes for more work. He runs into Lance again and the two watch over a drug deal between Diaz' Gang and the Cubans. But the Haitians ambush the deal as Tommy, Lance and Diaz are forced to fight back and afterwards Tommy is offered work from Diaz.
During his work for Diaz, Lance learns that Diaz' gang were the ones who ambushed the deal and killed their associates. Tommy however plans to gain Diaz' trust before attempting to kill him. Lance loses patience and secretly attempts to kill Diaz, but he fails and Tommy is forced to rescue him. With their cover blown, Tommy and Lance head to Diaz' mansion and kill him. With Diaz dead, Tommy is given more opportunities to take over the town.
Tommy ends up buying many businesses and expanding on his business. But Lance begins to feel under appreciated, causing a rift between him and Tommy. Meanwhile, Sonny loses patience and personally comes to Vice City to claim his money. Tommy plans ahead and attempts to give him fake money, but Lance betrays Tommy, reveals the plan to rip off Sonny and the Forellis attempt to kill him. Tommy kills Lance and then Sonny and is ultimately wounded in the chaos. Tommy then makes Rosenberg his right-hand man.
Voice Cast
Setting and Influences
GTA Vice City is arguably the most heavily themed Grand Theft Auto game, taking influences from a wide range of classic 1980s movies, television programmes and music.
Perhaps the closest real-life counterpart to GTA Vice City is the television series Miami Vice. Aside from the broad-ranging similarities (80's music — including new wave, hip-hop, R&B, soul, glam metal and synthesizer pop — organized crime, drug trafficking, styled cars, pastel clothes etc.), several specific references are included. For example, at a 3-star wanted level or above, the player will be chased by two undercover police officers who strongly resemble Sonny Crockett and Rico Tubbs, the primary characters from the aforementioned TV series. Furthermore, these undercover officers are named Cracker and Butts, word-plays on Crockett and Tubbs, and drive a VCPD Cheetah, which is itself styled after the 1986 Ferrari Testarossa, Crockett and Tubbs' vehicle of choice in the latter three seasons of the show.
Another direct link to Miami Vice is the inclusion of "Crockett's Theme," a pivotal piece of instrumental music from the show, on the in-game radio station Emotion 98.3. Many other popular songs that were used in Miami Vice are featured on the game's radio stations, including "Missing You" by John Waite and "Turn Up The Radio" by Autograph. The musical similarities extend to the background score composed specifically for the game — many cutscenes and the end credits feature ambient, synth-heavy tracks very much in the style of Jan Hammer, who provided the background music for the show, while the "Theme From Vice City" is comparable to Hammer's "Miami Vice Theme".
One of the game's primary characters, Lance Vance, is voiced by Philip Michael Thomas, who portrayed Tubbs in Miami Vice. His initial goal in the game -- to avenge the death of his brother in a drug deal gone wrong -- mirrors Tubbs' objective in the show's pilot episode. Several vehicles and weapons in Vice City are also taken from the TV series, including the Squalo (Sonny Crockett's speedboat), the Stinger (Crockett's Ferrari Daytona, his car for the first two seasons), the Marquis (Crockett's sailing yacht), the Infernus, the Katana (featured during the climax of the episode "Bushido"), the Stubby Shotgun (Tubbs' signature weapon in the later seasons of the show) and the MAC-10 (a weapon smuggled in the episode "Evan").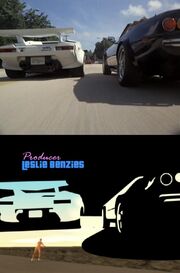 Other references to Miami Vice in the game are decidedly more subtle. For example, during the opening credits sequence, one of the stylized images that appears framing the in-game footage is actually a screenshot from the episode "Bought and Paid For", showing Nico Arroyo's Lamborghini Countach being chased by Crockett's Daytona. The attire worn by the Cuban and Haitian gangs in the game is taken from two prominent extras in a scene at Miami International Airport in the pilot episode of the show. Also, the game's Hidden Packages, small green "tiki statues" packed with cocaine, are a reference to the episode "Milk Run", in which cocaine is smuggled in an identical fashion.
Another significant influence on GTA Vice City is the 1983 film Scarface, starring Al Pacino as Tony Montana. Several in-game locations, such as the mansion that becomes the Vercetti Estate and the Malibu Club, are obviously styled after locations featured in the movie. Elsewhere in the city, there is a hidden apartment containing a chainsaw within a blood-stained bathroom, a nod to Scarface's infamous chainsaw torture scene. The game's final mission mirrors the end of the movie; in both instances the main character is assaulted by an army of goons at their mansion, although crucially Tommy Vercetti survives, whereas Tony Montana is killed. The "Mr. Vercetti" outfit available from the The Pole Position Club strongly resembles an outfit worn by Tony Montana, and even Tommy Vercetti himself takes many character and lifestyle traits from Al Pacino's character, specifically his short temper, his heavy dealings in the cocaine trade and his desire to rise to the top.
It is also worth noting that the radio station Flashback FM from Grand Theft Auto III features the songs that were written for Scarface; the developers acknowledged the film as being a major influence on the overall rise-to-criminal-power theme of that game, and the soundtrack was included as an homage.
Other references and influences on Vice City include:
Resources
Reception
GameSpot rated the game 9.6/10, giving it an Editor's Choice award. Its record was surpassed by its successor Grand Theft Auto: San Andreas. Awards GameSpot's Best and Worst of 2002 Best Music on PlayStation 2,[13] Best Action Adventure Game on PlayStation 2,[14] Game of the Year on PlayStation 2[15] IGN's Best of 2002 Best Adventure Game for PlayStation 2 (Editor's Choice and Reader's Choice),[16] Special Achievement for Sound (Reader's Choice),[17] Best Game of the Year for PlayStation 2 (Editor's Choice and Reader's Choice)[18] BAFTA Video Games Awards Best Design, Best PC Game, Best Action Game, Sunday Times Reader Award for Games, Best Playstation 2 Game, Best Sound.
Despite near-universal acclaim, GTA Vice City was voted "Most degrading Video Game to women" a few months after its release.
10th Anniversary Edition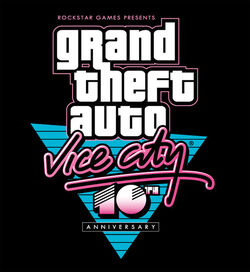 Grand Theft Auto: Vice City 10th Anniversary Edition was announced by Rockstar on October 26th, 2012.[1] On November 21, 2012, Rockstar further revealed it would be launched on December 6, 2012 for iOS and Android devices, and would cost $4.99 for both the App Store version and the Google Play version (with the British release costing £2.99 for the App Store and £3.29 for the Google Play Store).[2]
Rockstar announced that it would include "native high-resolution graphics and several enhancements unique to the iOS and Android platforms including updated character models and lighting effects, new and more precise firing and targeting options, a fully customizable control layout and native support for retina display devices."[3]
Trivia
This is the first GTA to feature a speaking protagonist.
The logo sequence for GTA Vice City is reminiscent of the Commodore 64 BASIC command prompt, which was common during the time when the game was set.
The Commodore 64-like opening of GTA Vice City features the melody of the Grand Theft Auto 1 theme song in a vibrant 8-bit tone. It was also the tune for the pager in GTA III.
According to Lazlow Jones, Rockstar began working on GTA Vice City only one month after the release of GTA III.
GTA Vice City is set two years after Grand Theft Auto: Vice City Stories which took place in 1984.
All license plates are similar to Florida license plates, an orange logo resembling the state of Florida can be seen on them, some even having the Florida Gators logo.
GTA Vice City is the only 3D Universe game not to feature the AK-47. However in the loading art, Phil Cassidy is seen holding one guarding his fort, and it can be seen on the wall of any Ammu-Nation. It was originally meant to appear, but was cut from the final game.
GTA Vice City is the second best-selling game of the 3D Universe (being behind Grand Theft Auto: San Andreas) and the fourth best-selling GTA game overall with over 20 million units sold.
In an episode of the Fox TV show Family Guy, Peter gets an amnesia and Lois wants Peter to play Grand Theft Auto, and the tape that is seen has a logo of GTA Vice City.
Some of the GTA Vice City posters have appeared in The Black Eyed Peas' "Where Is the Love?" music video.
On the box art, there is a helicopter in the upper left corner that was never featured or was used for display. It consists of a Maverick-like body with two guns at the front.
GTA Vice City is the second game in the 3D Universe, both chronologically and by game release dates.
Between its release in 2002 and recent copies of the game after 2012, out of the entire series, GTA Vice City has undergone the most changes out of any GTA game, having many songs removed and weapon designs differing (the Tear Gas is not present in any other versions and only exists in the original 2002 versions for PS2). For unknown reasons, on the new PS2 and PS3 versions, the Police Scanner while in an emergency vehicle plays in slow motion.
10th Anniversary Trailer
Original trailer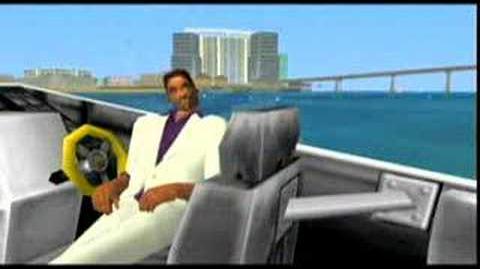 Further Reading
References
↑ http://m.rockstargames.com/newswire/article/45851/celebrating-the-grand-theft-auto-vice-city-10th-anniversary-plus.html
Ad blocker interference detected!
Wikia is a free-to-use site that makes money from advertising. We have a modified experience for viewers using ad blockers

Wikia is not accessible if you've made further modifications. Remove the custom ad blocker rule(s) and the page will load as expected.