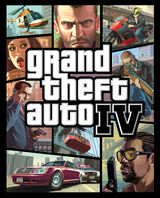 How to participate
Simply edit to enter! Here's how:
Be a registered user of GTA Wiki, with a verified email address, and be logged in to have your edits count.
Edit any GTAIV-related article between 4/29/2008 at 18:00 UTC and 5/14/2008 at 8:00 UTC
For every 10 edits you make, you will receive one entry into the giveaway.
For example, if you make 20 edits, you will have 2 entries, 30 edits gives you 3 entries etc...
>>>>>>>>SIGN UP HERE<<<<<<<<
Prizes
Giveaway details
Only constructive edits will count.
Winners will be picked at random amongst qualified pool during giveaway period by Wikia.
One drawing for each prize.
Recipients will be notified via email and their talk page on the GTA wiki.
If prize is unclaimed after 72 hours of notification, a new random winner will be picked.
Admin Gboyers will be administering the contest with the help of Wikia Staff members.
Please direct all giveaway related questions here.
Edits to talk pages or user pages do not count.
There is no limit to how many entries you can have.
One (1) prize per participant.
Ad blocker interference detected!
Wikia is a free-to-use site that makes money from advertising. We have a modified experience for viewers using ad blockers

Wikia is not accessible if you've made further modifications. Remove the custom ad blocker rule(s) and the page will load as expected.