| | | |
| --- | --- | --- |
| | This page documents the Official Policy of the GTA Wiki. It concerns standards that all users should follow. | |
This page details GTA Wiki's official policy on all things related to images.
Before uploading
Please review the Wiki FAIR USE policy. While GTA Wiki does not enforce it as strictly as Wikipedia does, we do fully acknowledge that the Grand Theft Auto series and everything associated with it are copyright to Rockstar Games and Take Two Interactive.
Legal
Unless otherwise specified, all rights to all images reside with Rockstar Games and Take Two Interactive.
Images that are not copyright Rockstar
Images such as fan artwork posted to DeviantArt may only be uploaded to GTA Wiki by the original artist.
Image licensing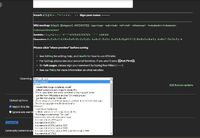 The upload file page has a drop down menu containing all the necessary licenses. Selecting an option automatically adds a licensing template to an uploaded image.
Image names
Images that are uploaded with meaningless names or overly broad names, such as Image:Gallery345 or Image:Tommy, should be renamed immediately.
Images should be named in the following manner.
Artwork: Artwork-CharacterName-GameAbbreviation
Characters: CharacterName-GameAbbreviation-ShortDescriptionIfNecessary
Locations: LocationName-GameAbbreviation-ShortDescriptionIfNecessary
Missions: MissionName-GameAbbreviation-ShortDesciptionIfNecessary
Products/Brands: BrandName-ShortDescriptionIfNecessary-GameAbbreviation
Vehicles: VehicleName-GameAbbreviation-AngleOfView-ShortDescriptionIfNecessary
Voice Actor photos: FirstnameLastname
Weapons: WeaponName-GameAbbreviation-ShortDescriptionIfNecessary
| Right | Wrong |
| --- | --- |
| File:CarlJohnson-GTASA.jpg | File:Carl-Johnson-San-Andreas.jpg |
| File:Viceport-GTAVC-Northeastwards.jpg | File:Northeast view of Viceport in GTAVC.jpg |
| File:Rhino-GTACW.jpg | FIle:Rhino in Chinatown Wars.jpg |
| File:Hunter-GTAVC-Front.jpg | File:HUNTERGTAVCFRONT.JPG |
| File:DesertEagle-GTASA-icon.png | File:DesertEagle GTASA icon.png |
| File:Artwork-MariaLatore-GTALCS.jpg | File:MariaLatore-Artwork-GTALCS.jpg |
| File:Sprunk-VendingMachine-GTAV.jpg | File:Sprunk-vending-machine-in-GTAV.jpg |
| File:RayLiotta.jpg | File:LIOTTA, RAY.jpg |
Image size
General screenshots should be neither too small nor too big. Images that are too small fail to properly illustrate what they show. Large, high quality images are a stretch on fair use.
General images should be no larger than 800x600 pixels, broadly construed. For example, an image taken in 1600x900 (widescreen) format may be uploaded in 1280x600, but no larger.
Images should, in general, be no smaller than 400x400. There is no point in uploading thumbnail images to the wiki. Overly large or overly small images should be deleted.