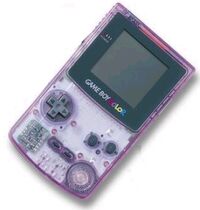 Wikipedia
The Game Boy Color, or GBC, is a handheld console made by Nintendo. It is essentially a Game Boy Classic, except with the much needed capability of showing color. It is also slightly smaller in size, and a fair bit lighter than the classic.
Grand Theft Auto games for the GBC
The Game Boy Color features handheld ports of Grand Theft Auto (first game) and GTA 2, though both versions are severely lacking from the PC and PS1 versions.
Systems
Fifth generation consoles
Sixth generation consoles
Seventh generation consoles
Eighth generation consoles
Non-console platforms
Console families
Manufacturers