"
Game Over
" is a feature in the 
2D Universe games
.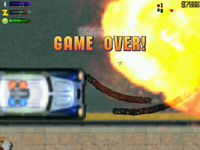 When you lose all of your lives, there's a "Game Over" message and the current game is, like the message itself refers, over.
This feature was replaced in favour with the "Wasted", to have endless lives in the next games in the series.
Ad blocker interference detected!
Wikia is a free-to-use site that makes money from advertising. We have a modified experience for viewers using ad blockers

Wikia is not accessible if you've made further modifications. Remove the custom ad blocker rule(s) and the page will load as expected.