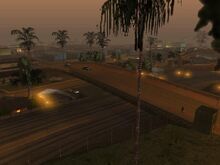 The Ganton Bridge is an overpass featured in Grand Theft Auto: San Andreas.
Description
It is located in the districts of Ganton and East Los Santos. It passes over Grove Street and the East Beach Freeway Extension. The bridge plays an important role in two missions: first in House Party, where Carl must kill some Ballas atop the bridge; and second in End of the Line, when Officer Frank Tenpenny crashes his Firetruck through the bridge's wall, landing on Grove Street; resulting in his death.
Trivia
Gallery
Ad blocker interference detected!
Wikia is a free-to-use site that makes money from advertising. We have a modified experience for viewers using ad blockers

Wikia is not accessible if you've made further modifications. Remove the custom ad blocker rule(s) and the page will load as expected.