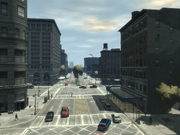 Garnet Street is a major east-west thoroughfare in Algonquin. Though it is called a street, it really is a boulevard because of its four lanes of traffic and central median. The street stretches nine blocks from Union Drive West to Union Drive East. Rotterdam Tower is a prominent feature on the route. It is also the border between Downtown Algonquin and Midtown Algonquin. It is probably based on Manhattan`s Houston Street, because of its two-laned traffic, and the neighbourhoods north of it, like The Triangle, The Meat Quarter and Easton are all based on neighbourhoods that are north of Houston Street in real life. The same goes for the neighbourhoods south of the street.
Ad blocker interference detected!
Wikia is a free-to-use site that makes money from advertising. We have a modified experience for viewers using ad blockers

Wikia is not accessible if you've made further modifications. Remove the custom ad blocker rule(s) and the page will load as expected.