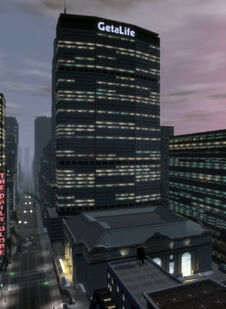 "It's a landmark but that's about it. Big fucking deal. Another big building. Why don't you go add it to your album of terrorist targets."
The GetaLife Building is a skyscraper in the GTA IV rendition of Liberty City, located in Easton, on the borough of Algonquin, between Jade Street and Iron Street, on Columbus Ave. right in front of the Grand Easton Terminal. The building was constructed in 1962, and stands at a height of 808 feet.
The building is a parody of its real-life counterpart, the MetLife Building, located on roughly the same location in New York City. The name, being based on the MetLife signage on the MetLife Building, is a joke on the phrase "Get a Life". This might be taken as a message from the Rockstar developers to those who play video games too much. In addition, it is believed that the name "Getalife" was given to the building for the fact that "Geta" is pronounced as "Ge-T-A" (G.T.A, Grand Theft Auto).
Trivia
The GetaLife Building is one of the first buildings shown in the first GTA IV trailer.
The facade of the building's lower base is reused for a skyscraper locating Jerkov's in Hatton Gardens and the new block of the Suffolk LCPD station.
The Getalife Building faces south in the game, but the real life MetLife Building faces north.
Interestingly, there doesn't seem to be a traditional street entrance to the building, as the base is connected to Grand Easton Terminal to the south and a building that resembles the Helmsley Building to the north.