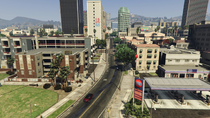 Ginger Street is a street in Little Seoul, Los Santos in Grand Theft Auto V.
Description
The street begins at San Andreas Avenue and ends at the intersection of South Rockford Drive and Invention Court. The northern section of Ginger Street is a tunnel under Palomino Avenue that passes behind Betsy O'Neil Pavilion. The street has connections to Vespucci Boulevard and Lindsay Circus.
Places of Interest
Businesses
Gang Control
Ginger Street is a part of Kkangpae turf.
Gallery