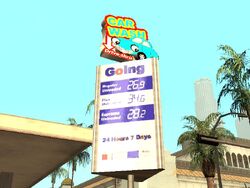 Going is an oil refining and sales company featured in Grand Theft Auto: Vice City and Grand Theft Auto: San Andreas. In GTA Vice City, a Going filling station is located in Washington Beach, directly opposite the Washington Mall. In GTA San Andreas, there is a filling station located in Idlewood, Los Santos (which has a Gang Tag behind the Car Wash sign.) The name and logo is a parody of Mobil while the car may be a parody of the Chevron cars used in many Chevron commercials in the 1990's. The logo can be found on Hotring Racers in GTA Vice City. Each Going station has a non-functional car wash.
Due to it's operating in Vice City as well as Los Santos may indicate that it is a larger company and more able to compete with larger petroleum companies. However, it only operates one filling station in the State of San Andreas - located in Los Santos. So it could still be a minor player in the industry.
Going may make use of the large Green Palms refinery and Octane Springs oil fields along with Tosser, Gasso and most likely Xoomer.