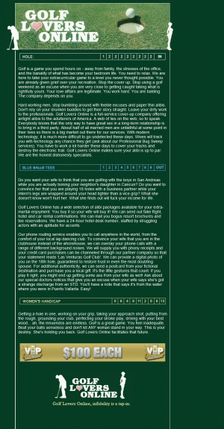 golfloversonline.net is a website on the Internet in Grand Theft Auto IV that leads most people to believe that the site is all about golf. However, the whole site is devoted to tips and tricks to get away with an affair under the guise that the person is going out on a golfing trip.
The site offers many products that will help with the affair, such as fake plane tickets and phony travel agents with "an aptitude for accents".
Ad blocker interference detected!
Wikia is a free-to-use site that makes money from advertising. We have a modified experience for viewers using ad blockers

Wikia is not accessible if you've made further modifications. Remove the custom ad blocker rule(s) and the page will load as expected.