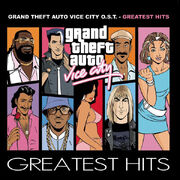 Grand Theft Auto: Vice City O.S.T. - Greatest Hits is a compilation CD containing a selection of music from the video game Grand Theft Auto: Vice City. It includes two songs from each of the game's seven music radio stations, plus the "Theme from Vice City". It was released in the United States and Canada on April 30, 2003.
In addition to music, the CD also includes several radio commercials heard the game. Much like the majority of the discs in the more comprehensive soundtrack box set that was released internationally the previous year, the final track on the CD contains unlisted bonus material hidden after a lengthy pause, including a blooper reel and an additional commercial.
Track Listing
Notes
As well as the Complete the Look commercial, the final track on the CD also contains an unlisted bloopers reel hosted by Lazlow, featuring various voice actors flubbing their lines while recording DJ spots and commercials for the game, followed by a final commercial for the Exploder Survival Knife.
There are numerous variations on the Complete the Look advert heard in the game; the one on the soundtrack is the "Satanist" version.
The "Theme from Vice City" and the final track are exclusive to this compilation, and were not included in the Grand Theft Auto: Vice City Official Soundtrack Box Set.
See Also