"One of the most influential and successful games ever made."
―The New York Times
Grand Theft Auto III Main Theme
GAME


Grand Theft Auto III

Developer
DMA Design/Rockstar North (PS2, PC)
Rockstar Vienna (Xbox)
Publisher
Rockstar Games
Engine
RenderWare
Release dates
PS2
22nd October 2001
26th October 2001


26th October 2001
25th September 2003


---

PC
20th May 2002
24th May 2002
24th May 2002
25th September 2003


---

Xbox
21st October 2003
2nd January 2004
2nd January 2004
29th July 2004 

---

iOS
15th December 2011


---

Android
15th December 2011


---

PS4
6th December 2015

Platforms
PlayStation 2
PlayStation 4
Xbox
Personal Computer
iOS Devices
Android Devices
Ratings

ESRB: M
BBFC: 18
ELSPA: 18+ (PC only)
OFLC: MA 15+ (originally RC)
OFLC (NZ): R18
USK: 16+
SELL: 16
aDeSe: +18
VET/SFB: 18 (Square)
DJCTQ: 18
CERO: Z

Protagonist
Claude
Location
Liberty City
Year
2001
Grand Theft Auto III, also known as GTA 3 or GTA III, is the third installment of the Grand Theft Auto series and was released in 2001. The game is the first of the 3D Universe and introduced many new features and increased the fan base of the series. It was originally released on the PlayStation 2, PC, and Xbox.
GTA III is the first foray into true three-dimensional GTA gameplay, with the player taking control of the game via a third-person perspective, viewed from behind and above the player character, as opposed to the Top-Down Perspective in the earlier Grand Theft Auto 1 and Grand Theft Auto 2 games. The transition from top-down to full 3D has been widely regarded as a great maneuver, proven by its phenomenal sales figures.
The changes made for GTA III marked a defining point in the series' graphical representation and control scheme. More recent GTA titles have stuck with the same 3D control and visual scheme, and all other titles of GTA are likely to remain so, albeit improved in visual quality as hardware improves.
The game was met with an outstanding universal critical acclaim, becoming one of the highest rated video games in history.
linha da história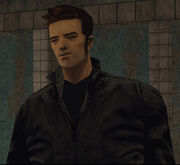 A partir do site oficial
LIBERTY CITY, EUA . O pior lugar na América.
Você já foi traído e deixado para morrer . Agora você está se vingando , a menos que a cidade recebe primeiro. Chefes da máfia precisam de um favor , policiais corruptos precisam de ajuda e gangues de rua quer você morto . Você vai ter que roubar , roubar e matar para ficar fora de problemas graves. Qualquer coisa pode acontecer aqui.
No inicio do jogo, um carro de fuga puxa -se a um banco. Três pessoas estão fugindo após cometer um assalto : três homens , um dos quais é o protagonista (cujo nome é mais tarde revelou ser Claude no GTA San Andreas ), um outro assaltante , o motorista de fuga , Miguel e uma mulher, Catalina. Catalina mata o outro ladrão, fere Claude e leva o dinheiro para ela e Miguel e foge com ele . Claude logo é preso e assume a culpa pelo roubo , porém ao atravessar a ponte para Portland Island, o comboio da polícia é emboscado pelo Cartel Colombiano que sequestram o velho Oriental e explodir a ponte Callahan , deixando Portland isolado do resto do da cidade. Claude e 8-Ball libertar-se enquanto o comboio é emboscado . Claude e 8-Ball escapar da ponte e se esconder em Portland. 8-Ball apresenta Claude para Luigi Goterelli e Claude trabalha para ele provar -se útil . Claude é logo introduzido por Luigi para Joey Leone e trabalha para ele contra a Família Forelli . Joey logo introduz Claude para Toni Cipriani e Claude ajuda-lo a vingar as Tríades . Toni apresenta Claude chefão Salvatore Leone do Leone que tem ele ajudar sua esposa Maria Latore . Salvatore acredita que um barman chamado Curly Bob está vendendo informações sobre o Leone de o Cartel em troca de SPANK . Claude então caudas Curly Bob para o porto , onde ele ouve uma conversa entre Curly Bob e Líderes Cartel Catalina e Miguel . Claude mata Curly Bob , mas Catalina e Miguel fuga. Salvatore planeja vingar-se do Cartel por ter Claude e 8-Ball explodir um navio Cartel fornecimento SPANK . Depois de Claude explode o navio , Salvatore Claude pede para um último favor , para se livrar de um carro sujo. Maria avisa Claude por pager que o carro é uma armadilha e diz-lhe para encontrá-la nas docas. Maria explica que Salvatore não confiava em Claude e queria oferecer o Cartel de graça. Maria lhe apresenta a Yakuza ( inimigos da Leoa 's) líder Asuka Kasen e se deslocam para Staunton Island para escapar do Leone de , Asuka quer Claude para provar que seus laços com Leone está completamente quebrado por sniping Salvatore como ele está saindo do clube de Luigi que ele conseguiu faz. Claude trabalha para Asuka contra o Leone e da polícia para ajudar a Yakuza . Ela logo introduz Claude para seu irmão e waka - gashira Kenji Kasen , juntamente com o policial corrupto Ray Machowski . Claude trabalha para Kenji contra os Yardies eo cartel . Claude também trabalha para Ray para manter suas conexões com o segredo Yakuza do resto da polícia , fazendo coisas como matar seu parceiro Leon McAffrey . Ray logo introduz Claude para billionare Donald Love e Claude logo começa a fazer o trabalho para o amor . Primeiramente, Claude resgata a Gentleman Oriental do Cartel, em seguida, ele começa uma guerra entre a Yakuza e do Cartel por bater Kenji com um carro Cartel . Claude também recebe alguns pacotes para o amor como um avião deixa-os no oceano. Amor logo revela os pacotes foram um chamariz, no entanto, e de que os pacotes reais foram no próprio plano . Claude , em seguida, vai para o hangar de avião só para encontrar o pacote já tomada pelo Cartel de Fort Staunton . Lá, Claude encontra o pacote na posse de nenhum outro Catalina , em seguida, e Miguel . Enquanto eles tentam escapar , Claude é capaz de parar e surpreendê-los com dois tiros de advertência . Miguel tenta negociar com Claude apenas levar um tiro nas costas por Catalina, que escapa ao pular em uma lixeira . Asuka ainda parece pensar que o Cartel matou seu irmão e começa a torturar Miguel para obter informações. Claude sai para pegar os pacotes de volta ao Amor. Depois de fazer um pouco mais mais trabalho para o amor , Claude entra no apartamento de amor apenas para descobrir que ele desapareceu e sai do prédio . Ele, então, faz alguns trabalhos para Asuka contra o Cartel de "vingança" pela morte de Kenji , mas Claude logo descobre Asuka e Miguel ambos mortos com uma nota de Catalina dizendo que ela raptou Maria e vai matá-la , a menos que ele traz US $ 500.000 para a Mansão Cartel . Claude leva o dinheiro , no entanto, revela-se uma emboscada e Catalina ordens a seus homens para matá-lo , enquanto ela leva Maria para longe em um helicóptero . Claude escapa da emboscada e segue o helicóptero para a represa , onde ele resgata Maria . Reboards Catalina O helicóptero , mas Claude atira -lo para baixo e mata Catalina . Como Claude e Maria deixar a represa, Maria reclama de sua aparência. Ela continua falando até que sua voz é silenciada por um tiro .
City
Main Article: Liberty City in 3D Universe

The game takes place in Liberty City, which is loosely based on New York City, but also incorporates elements of other American cities. There are different districts in Liberty City. It consists of three islands - Portland Island, Staunton Island, and Shoreside Vale. The three islands are comparatively similar to Brooklyn, Manhattan, and Staten Island, respectively.
This is the old industrial district, consisting largely of workmen in old cars, the Leones, Triads, and Diablos.
The manual's description:
Here you will find the docks, the Red Light District, warehouses, factories, markets, garages as well as some useful suppliers. The area is populated with hookers, pimps, laborers, dockworkers, politicians and general scum. Crime is rife in Portland and it has a long history of Mafia control. But this is being challenged by the Triads. A bloody turf war has been underway for several months. A delightful district with something for everyone.
This is the first area the player will interact with in the game.
This is the business district. Lots of rich people can be found here, along with their nice cars. The resident gangs are the Yakuza, the Yardies, and Colombian Cartel.
The manual's description:
This is the central business district. This is where all the big business takes place in Liberty City and is dominated by the rich, powerful and corporate. During the day the area is bustling with businessmen doing their 9-5 thing - insider trading, taking bribes and selling their grandmothers for ten bucks. At night it is dark, desolate and very dangerous.
Staunton Island is the second of the three districts the player will see in the game.
This is the suburban area of Liberty City. The wealthy live here, along with the middle-class residents and gangs. The Francis International Airport is also located here. The local gangs are the Southside Hoods and the Colombian Cartel.
The manual's description:
Suburban bliss and tranquility Liberty City style. Home to many of Liberty City's more affluent gangsters, Liberty City's commuter-belt is a patchwork of swimming pools, picket fences, backyards, basketball nets, street gangs and five car garages. It's littered with ostentatious mansions paid for with blood money, protected by high security guards and gates to keep out gangs of bored teenagers looking for something to do to bring some excitement to their middle class existence. The designer dogs and the station wagons give a shallow serenity to suburbia, but don't be fooled. Violence and corruption are at the heart of every home.
This is where the ending of the game takes place.
Influences
It could be said that Grand Theft Auto III has the third least amount of influences in the entire GTA series, only having two, which is the movie GoodFellas and the classic TV show The Sopranos as most of the mafia theme in the game was influenced by the both the show and the movie.
Reception
Upon release, Grand Theft Auto III was met with near-unanimous critical acclaim. Various critics praised the game for its story, gamplay, and the near unlimited freedom gain to the player; GTA III was touted as revolutionary by several game review websites and publications.
GTA III holds a 97/100 on Metacritic, making it (along with Tony Hawk's Pro Skater 3) the highest rated PlayStation 2 game on the website. The game holds a 95% on GameRankings, making it the highest rated PlayStation 2 game on the website, as well the second highest rated game of its year, behind Halo.
IGN heavily praised the game, giving it a 9.6/10, calling it "a massive scale operation that just gets better and better as players dig into it, even though its gets ridiculously difficult at points." Eurogamer gave the game a perfect 10, calling it "A luscious, sprawling epic of a game and one of the most complete experiences I have ever encountered. If this is what I've waited a year to see on my PS2, then I would have waited ten. Magnificent". 1Up.com gave the game an A+, saying "The best game of the year? Maybe the best game ever".
GameSpot gave the game a 9.6/10. stating "While the violent nature of the game will surely turn some people off and kids simply shouldn't be allowed anywhere near it, GTA III is, quite simply, an incredible experience that shouldn't be missed by anyone mature enough to handle it". Game Informer gave it a 9.5/10, stating "The environments of Liberty City are stunning in scope and detail, dwarfing anything I've ever seen, and your choices are endless". GameSpy awarded the game with 9.4/10 stating "A fantastically designed and fun game that's one of the most absorbing, entertaining titles released in a while. It gets better and better with every single day, as you continue discovering new little features here and there. ". Game Revolution gave the game a perfect score, stating "Just about the best game yet released on the system and one of the most impressive console titles we've ever seen. And I ain't blowing smoke up your tailpipe". GamePro gave the game a 5/5, stating "Greatly improved in GTAIII is the stunning visual and sound package." GamesRadar gave the game a perfect 10, stating "Almost immediately after your first play you'll realise that underneath the cloak of controversy that will forever shadow GTA3 sits a truly special, groundbreaking and brilliant game. You'll love it."
Edge was less favorable, rating the game 8/10.
The PC version of the game recieved less positive, yet strong, reception. The PC version has been criticized for performance problems, especially in light of the much smoother performance of Vice City. This was due to technical issues. IGN gave the PC version a 9.4/10, while GameSpot gave it a 9.3/10.
Sales
GTA III emerged with an US$49.95 price, becoming the #1 selling game of 2001 in the United States. The game was later discounted to the price of $19 after becoming one of Sony's "Greatest Hits". The game has became the second most best-selling game of 2002, behind its sequel, Grand Theft Auto: Vice City. As of September 26, 2007, Grand Theft Auto III has sold 12 million units according to Take-Two Interactive. As of March 26, 2008, Grand Theft Auto III has sold 14.5 million units according to Take-Two Interactive.
GTA III is the fourth best-selling game of the series, behind Grand Theft Auto IV, Grand Theft Auto: San Andreas, and Grand Theft Auto: Vice City.
10th Anniversary Edition
The 10th Anniversary Edition was announced by
Rockstar Games
during October 2011. The edition was released for mobile phones and tablets, such as iPod, iPhone and Android. The game was released in fall 2011.
A limited edition of Claude action figure is available for pre-order for $149.99; only 1,500 pieces were made.
The iOS version of GTA III has received favorable reception, with IGN rewarding it with a 7.5/10.
Alternate Artwork
In some PAL territories, Grand Theft Auto III was released with different cover artwork, despite there being no major differences in the game itself. Below are examples of several box arts.
Trivia
The first four cars seen in the mission " Give Me Liberty " ( Rumpo, Police, Enforcer and Patriot) have no drivers.
GTA III was the first GTA title to feature a third-person perspective.
GTA III was the last game to have a possibility to switch to a top-down camera view in third-person perspective.
GTA III was the last game to have the artwork on the cover not be a collage of different images (though only for Europe (excluding Germany), Australia, and New Zealand).
GTA III for PC was delayed one year because it shipped with high quality radio and textures. However, Rise FM wasn't remastered, and shipped with the PS2 quality. Differences in quality between Rise and other radio stations are quite audible.
Some early copies of GTA III still featured the logo of DMA Design, the original name of Rockstar North, during the opening credits.
The cash in GTA III is inflated 10 times compared to the suceeding titles in the series, this is why the cash given for completing missions looks so rewarding.  This is evident when you compare the cost of healthcare and using the Pay 'n' Spray, which both cost $1000 in GTA III but only $100 in GTA Vice City for example, and the reward for collecting Hidden Packages, which are worth $1000 each in III but just $100 in VC.
In GTA III, when the player bumps cars, there is a small cash bonus, like in previous GTA games.  Destroying a vehicle gives the player an $80 bonus.
On the radar, there are no Ammu-Nation "gun" icons, nor are there any Pay 'n' Spray "can" icons. These icons only appear during certain missions. Also, GTA III was the only game which had hidden these icons.
When Grand Theft Auto: Liberty City Stories was released several years later, the designers took the unusual step of maintaining continuity with the earlier game by keeping the layout of Liberty City very much the same as it is in GTA III. This gave an advantage to players familiar with the city from GTA III when they moved on to the later game, and vice-versa for players who are playing the games in chronological order (LCS first, then GTA III). However, those familiar with the control scheme of LCS and other later games may find GTA III more challenging to play: the right analog stick (on the PS2) cannot be used to move the camera around while driving, and there is no on-screen map to plot routes (the radar is all there is, and it only shows the immediate area; in addition, it is impossible to seperate on-ground roads with tunnels, rivers, and so on using the radar).
Grand Theft Auto III celebrated a 10 year anniversary, releasing a few GTA III toys and games for Apple iOS and Android Market for Mobile Phones.
This is only game in 3D Universe that doesn't have the tracksuit outfit.
It was rumored that many features of the game were scrapped after the 9/11 terrorist attacks. However, Rockstar denied this and claimed that only about 1% of the game was changed. A reference to terrorists was removed, and a few cosmetic details like cars and certain civilian comments were changed. A major change was a remix of the US packaging, which would eventually become Rockstar's signature style.[1]
This game, Grand Theft Auto San Andreas, Grand Theft Auto: Liberty City Stories, and Grand Theft Auto IV are the only games where the protagonists and the main characters of the story are on the run from the antagonists of the story.
This is one of the only games in the 3D Universe, alongside GTA Advance, which did not feature helicopters and motorcycles. Many gamers were confused why they where usable in LCS. Rockstar stated that between LCS and 3, bikes were temporarily banned in Liberty City due to thick roads, and the number of accidents and helicopters were limited only to licenced pilots due to the increased number of terrorist activities in the city.
This is the only game in the whole GTA series to use photographs/decals as textures. This is evidenced in the wheels of some cars, doors and windows on buildings, and accessories on pedestrians, examples being the door on the Portland police station, the wheels on Sentinels with a Honda logo, and a Louis Vuitton handbag carried by a ped.
See also
Trailers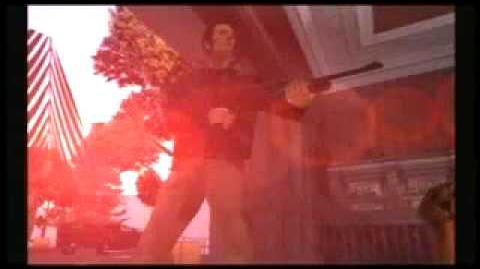 10th Anniversary Trailers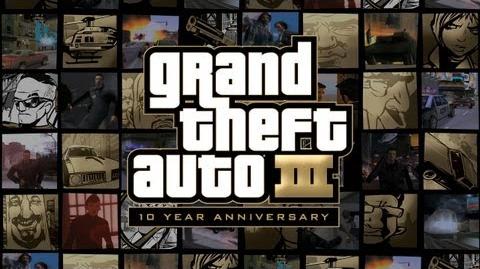 Gallery
External Links
References