"Off road point to point starting in the dark heart of Mount Chiliad, shooting down its foothills, rolling through Paleto Bay, and coming to a stop on the white sands of Procopio Beach. Short road section, couple of jumps."
―Description
Grand Tour is the longest Rockstar Published Land Race in Grand Theft Auto Online. It is available for up to 16 players. All vehicle classes except utility are permitted. Racers start on the highway at Paleto Cove making their way through Lago Zancudo, Sandy Shores Airfield, Harmony, Vinewood, Alta, La Mesa, Pillbox Hill and Little Seoul before finishing at Vespucci Beach. The race is not unlocked until rank 40, the highest rank requirement of any land race in the game.
Map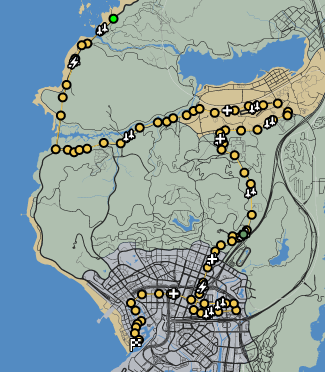 Ad blocker interference detected!
Wikia is a free-to-use site that makes money from advertising. We have a modified experience for viewers using ad blockers

Wikia is not accessible if you've made further modifications. Remove the custom ad blocker rule(s) and the page will load as expected.