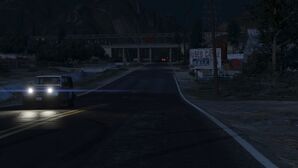 Grapeseed Avenue is a two-way street in the town of Grapeseed that has two distinct sections that are not connected.
Description
The northwestern section is also called Grapeseed Main Street and runs from the western end of Seaview Road to the junction of Joad Lane and Union Road. The eastern section begins at Seaview Road and ends after passing under the Senora Freeway where it becomes Catfish View at the intersection with Union Road.
Places of Interest
Map
Ad blocker interference detected!
Wikia is a free-to-use site that makes money from advertising. We have a modified experience for viewers using ad blockers

Wikia is not accessible if you've made further modifications. Remove the custom ad blocker rule(s) and the page will load as expected.