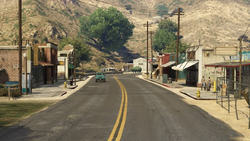 Grapeseed Main Street is the section of Grapeseed Avenue that forms the main thoroughfare in the town of Grapeseed, Blaine County, in Grand Theft Auto V.
Description
It starts at the Seaview Road & North Calafia Way intersection in the southwest and ends in the north at the Union Road & Joad Lane intersection. On its northern section it is identified as Grapeseed Avenue, however even the section through the township is part of the same street, the online purchaseable property is designated as number 1893. Grapeseed Avenue has another section that runs east-west from the Senora Freeway to Seaview Road parallel to O'Neil Way and number 1932 is situated on this section.
Grapeseed Main Street closely resembles Baker Street, Bakersfield, California.
Businesses
Notable Locations
Gallery