"Sequel to smash hit Grass Route, this off road point to point starts on the North bank of the Zancudo River, passes through the wetlands, and finishes on the beach in North Chumash. Expect some of the same dirt road hijinks you enjoyed the first time around."
―Description
Grass Route II is a Land Race in Grand Theft Auto Online. It is available for up to 8 players. Players start off at Lago Zancudo and must make their way through the swamps before ending at North Chumash. The race was added in the Beach Bum update.
Off-road vehicle selection is limited but in this case it is not due to any obstacle size since The Liberator is allowed.
Map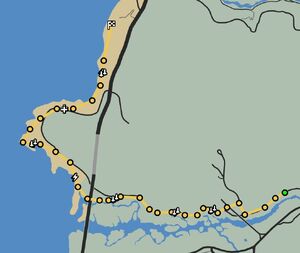 Ad blocker interference detected!
Wikia is a free-to-use site that makes money from advertising. We have a modified experience for viewers using ad blockers

Wikia is not accessible if you've made further modifications. Remove the custom ad blocker rule(s) and the page will load as expected.