"To their great annoyance, even the rich and famous don't live forever. Pass the graveyard to the stars in Pacific Bluffs on this lap race for cars and motorbikes."
―Description
Graveyard Shift is a Land Race in Grand Theft Auto Online. It is available for up to 8 players. Players must race around the large graveyard in Pacific Bluffs. Every vehicle class is allowed, except Industrial. This is one of only 3 land races that allow bicycles, the others being Pier 2 Pier and The First Corporation. 
Map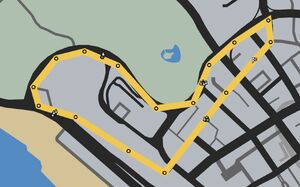 Ad blocker interference detected!
Wikia is a free-to-use site that makes money from advertising. We have a modified experience for viewers using ad blockers

Wikia is not accessible if you've made further modifications. Remove the custom ad blocker rule(s) and the page will load as expected.