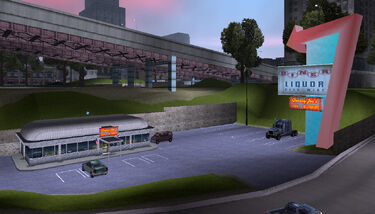 Greasy Joe's is a diner and restaurant in Grand Theft Auto III, located in Callahan Point, Liberty City. Primarily selling liquor, Greasy Joe's is regarded as a hangout for corrupt and undercover cops. The diner used to be a Rusty Brown's donut shop as recently as 1998 in Grand Theft Auto: Liberty City Stories.
In GTA III, a Kuruma, Moonbeam, and Linerunner are parked there at all times; a police bribe is also located on the roof. Greasy Joe's is one of the destinations for the game's taxi missions.
In GTA Advance, this is the place where Vinnie dies (fake) in the mission "Getaway".
Trivia
In GTA Advance, the Greasy Joe's sign exists in this area but the building looks like a factory.
Ad blocker interference detected!
Wikia is a free-to-use site that makes money from advertising. We have a modified experience for viewers using ad blockers

Wikia is not accessible if you've made further modifications. Remove the custom ad blocker rule(s) and the page will load as expected.