This article or section contains insufficient information and is considered as a Stub. You can help GTA Wiki by expanding it as much as you can.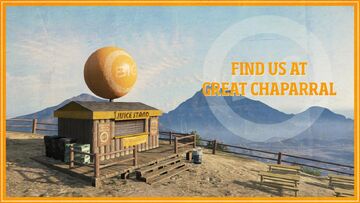 "A no man's land between the Vinewood Hills and the Grand Senora Desert, you won't find much in the Great Chaparral other than scrubland and the occasional dead body."
―GTA V Manual
The Great Chaparral is a landscape and hilly area located in the north of the Los Santos County, San Andreas. It is bordered by the Grand Senora Desert and the Zancudo River to the north, the Vinewood Hills to the south and the Tongva Hills to the west.
Known Roads and Streets
Businesses