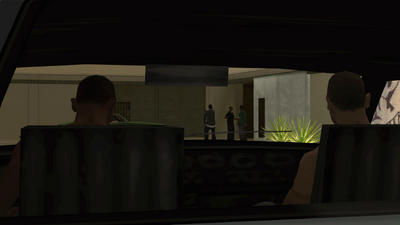 The Green Sabre is a car featured in Grand Theft Auto: San Andreas. It appears in The Introduction and The Green Sabre. It was used in the drive-by on Beverly Johnson. In The Introduction it is seen driven by Ballas members. In the mission The Green Sabre, it is seen by Carl and Cesar in a car, where Frank Tenpenny, Big Smoke, and Ryder taking it out of a garage, with Eddie Pulaski driving it.
Trivia
Even though it is used by the Ballas, it is colored green likely to avoid suspicion from the Grove Street Families during the drive-by.
The player can make a Sabre to look like the Green Sabre by driving it into a TransFender garage and color it green.