"Lap race passing Los Santos International, the Maze Bank arena, and Little Seoul. You'll see lots of unused grassland where you might be able to bury a body. Cars and motorbikes. The 'Prepare to Take Off' billboard will separate the women from the girls."
―Description
Greenwich Meantime is a Land Race featured in Grand Theft Auto Online. It is available for up to 8 players. Players must race in a loop around the La Puerta Freeway and the Maze Bank Arena. Every vehicle class is allowed.
Map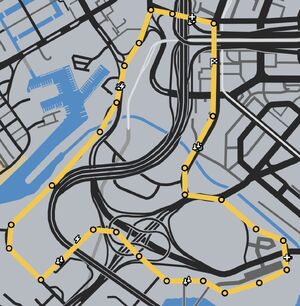 Trivia
The race is named after Greenwich Mean Time (GMT), the official time Great Britain uses during the Winter half of the year. 
Ad blocker interference detected!
Wikia is a free-to-use site that makes money from advertising. We have a modified experience for viewers using ad blockers

Wikia is not accessible if you've made further modifications. Remove the custom ad blocker rule(s) and the page will load as expected.