MANUFACTURER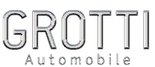 Grotti is an Italian luxury land and sea vehicle manufacturer featured in the Grand Theft Auto series.
Overview
The company is based on Italian luxury car manufacturer Ferrari. The company's name is presumably a play on the word "grotty", meaning "rotten" or "putrid". Grotti's logo also caricatures Ferrari's, as in GTA San Andreas the galloping horse is replaced with a rabbit/hare. In GTA IV, instead of a galloping horse, the logo depicts a horse sitting down. In GTA V, the logo is changed into a tilted Maltese cross on the center of the emblem. One vehicle, the Brioso R/A, is based on the Fiat, as Fiat once owned Ferrari.
Dealership Locations
GTA San Andreas
GTA IV + Episodes from Liberty City
Grand Theft Auto V
Vehicles
3D Universe
HD Universe
Trivia
Gallery
See Also
Ferocious - A car manufacturer in earlier GTA games also based on Ferrari.
Grotti Showroom - The main location of Grotti.
Vehicle Brands in the HD Universe