MANUFACTURER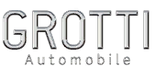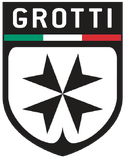 Grotti is a luxury land and sea vehicle manufacturer featured in the Grand Theft Auto series.
Overview
The company is based on Italian luxury car manufacturer Ferrari. The company's name is presumably a play on the word "grotty", meaning "rotten" or "putrid". Grotti's logo also caricatures Ferrari's, as in GTA San Andreas the galloping horse is replaced with a rabbit/hare. In GTA IV, instead of a galloping horse, the logo depicts a horse sitting down. In GTA V, the logo is changed into a tilted Maltese cross on the center of the emblem. One vehicle, the Brioso R/A, is based on the Fiat, as Fiat once owned Ferrari.
Dealership Locations
GTA San Andreas
GTA IV + Episodes from Liberty City
Grand Theft Auto V
Vehicles
3D Universe
HD Universe
Trivia
Gallery
See Also
Ferocious - A car manufacturer in earlier GTA games also based on Ferrari.
Grotti Showroom - The main location of Grotti.
Vehicle Brands in the HD Universe
Ad blocker interference detected!
Wikia is a free-to-use site that makes money from advertising. We have a modified experience for viewers using ad blockers

Wikia is not accessible if you've made further modifications. Remove the custom ad blocker rule(s) and the page will load as expected.