This article is about the Grotti Showrooms. For the manufacturer, see Grotti.
GTA San Andreas
In 
Grand Theft Auto: San Andreas
, the
Grotti Showroom 
is located in the
Rodeo
 district of 
Los Santos
, 
San Andreas
. It is inaccessible to the player and plays no role in the storyline whatsoever.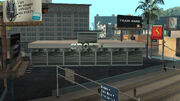 GTA IV
In Grand Theft Auto IV, the showroom has a little more to offer. It is located in Middle Park East on the corner of Pyrite Street and Bismarck Avenue. It sells Turismos which the player can steal and either drive out the double doors or out one of the many breakable windows.
Interior
The glass double doors bear a big Grotti Logo on them, there are also Grotti Logos on the walls. There is a spiral staircase at the back of the showroom which leads up to the next floor. Both floors contain Turismos which are on display. There are pedestrians and workers around the showroom, presumably looking at the cars or working in the showroom. There are windows all around.
Exterior
The windows are visible (obviously) around the whole of the building and there is a roof over the top of the double doors that can be walked on by going up the interior spiral stairs, smashing the window and walking onto the roof.