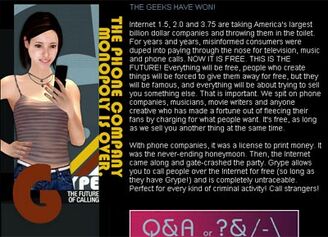 Grype is an internet phone calling service present in Grand Theft Auto IV. Its main website can be accessed in-game, and though it is unusable, the site details how it is bringing major phone companies down with its service. Grype is a parody of the real-life internet calling service Skype.
Trivia
The site's name is a play on words of "gripe".
Ad blocker interference detected!
Wikia is a free-to-use site that makes money from advertising. We have a modified experience for viewers using ad blockers

Wikia is not accessible if you've made further modifications. Remove the custom ad blocker rule(s) and the page will load as expected.