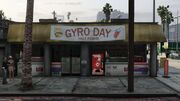 Gyro Day Hot Food is a fast food restaurant that is located next to Wall Fabric Fashion and Bean Machine in Simmet Alley, Textile City and another on Melanoma Street in Vespucci Beach, Los Santos.
Foods and beverages
Fruit juice, smoothies, burgers, donuts, tacos, pizza, hot dogs, ice cream, sundaes, and "sludgies" are sold.
Trivia
Gyro Day is a play on the British phrase giro day, referring to the day every two weeks when a person receives their unemployment benefits.
Ad blocker interference detected!
Wikia is a free-to-use site that makes money from advertising. We have a modified experience for viewers using ad blockers

Wikia is not accessible if you've made further modifications. Remove the custom ad blocker rule(s) and the page will load as expected.