"All steel construction, full polish tool with head and handle forged in one piece."
— GTA Vice City Website
The Hammer is a melee weapon featured in Grand Theft Auto: Vice City and Grand Theft Auto V. It was also removed from Grand Theft Auto IV while it was in development.
Description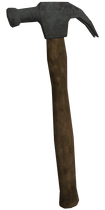 The hammer has a short range but deals a good amount of damage, causing the person being attacked to collapse. The hammer can be purchased from any store that sells melee weapons for $20 and stolen from builders after they are killed.
The hammer was removed from GTA IV, although, it can be still seen a few times in the game, in the hands of construction workers. It can be also found inside a few buildings, but it can't be used.
Grand Theft Auto V
The hammer is a bonus weapon to those who have purchased either the special or collectors edition of the game and will be available for free at all Ammu-Nation shops.
Locations
Grand Theft Auto: Vice City
Gallery
Mission Appearances
In the third storyline mission in the game : Jury Fury, Tommy Vercetti uses a Hammer to damage one of the lawyers cars.
In the mission The Fastest Boat, one of the workers who was protecting the boat, uses a Hammer.
Trivia
In GTA V the Hammer is only available to those who purchase the special or collectors edition of the game.
See also