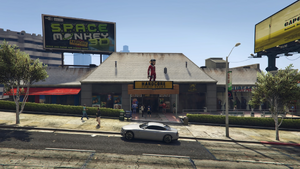 Hardcore Comic Store is an unenterable comic store in Grand Theft Auto V. It is located on Eclipse Boulevard in West Vinewood, Los Santos, next to Specs Pest and Surface.
Description
The player is able to talk to an actor dressed up as the character Impotent Rage, indicated by a small blue dot on the map. Attached to the roof of the store is a billboard advertising the upcoming film, Space Monkey 3D, as well as its own phone application. Outside are two interactive ATMs and newspaper vending machines for the Los Santos Meteor and the Daily Rag.
Collectibles
Ad blocker interference detected!
Wikia is a free-to-use site that makes money from advertising. We have a modified experience for viewers using ad blockers

Wikia is not accessible if you've made further modifications. Remove the custom ad blocker rule(s) and the page will load as expected.