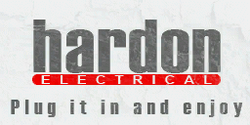 "Plug it in and enjoy."
―Slogan
Hardon is an electrical company featured in Grand Theft Auto: San Andreas. It has a warehouse located in LVA Freight Depot, Las Venturas, San Andreas.
Its name is also a parody of the electronics company Harman/Kardon, referencing the non-driver required "plug and play" feature.
Trivia