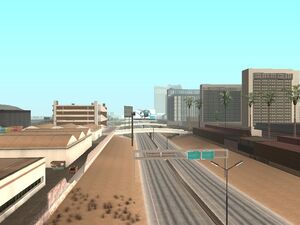 The
Harry Gold Parkway
is a major road part of the
Julius Thruway
freeway
system encircling
Las Venturas
,
San Andreas
. The road bisects the city into eastern and western portions, and connects Julius Thruway North with Julius Thruway South. The Harry Gold Parkway is an extension of the
Los Santos Freeway
connecting Las Venturas with
Los Santos
, and terminates at
The Mako Span
. It services
Las Venturas Airport
, the
Redsands West
and
Redsands East
districts, and is only minutes west of
The Strip
.
This is one of only a couple of streets in the game to carry a name. It is named after Harry Gold, a Swiss-born Soviet spy during the 1940s.
Exits
Exits
Destinations
Remarks
Julius Thruway South

South: Red County, Los Santos

West: Bone County, San Fierro, Julius Thruway West

East: Julius Thruway East

Four-way intersection
Las Venturas Airport

West: Las Venturas Airport, Redsands West

East: The Strip

Diamond interchange
Julius Thruway North
West: Bone County
Half-trumpet interchange