The Jobuilt Hauler is a tractor trailer truck in Grand Theft Auto V.
Description
Design
The design of the truck is evidently based on that of the Kenworth K100 and of the Peterbilt cab-over trucks. For this reason it heavily resembles the Packer from GTA IV.
Performance
The performance is average and the acceleration is rather slow. The Truck has, however, a considerable good top speed even if it is the slowest tractor trailer in Grand Theft Auto V.
Variants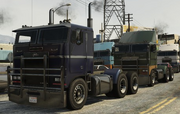 The Hauler can be found either with or without a wind deflector on its roof.
Locations
Trivia
Like most large trucks in the game, shooting one of the gas tanks on the side may cause the vehicle to start fire and/or explode.
The default radio station for the Hauler is Los Santos Rock Radio.
Gallery