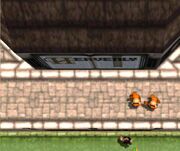 Heavenly Radio is the Hare Krishna's favorite radio station, transmitting in the Industrial District, Anywhere City in Grand Theft Auto 2. The music is a mix of Jesus-pop and soft music. Listeners are continuously urged by the station's DJ, Venus Ordelia, to convert. It's headquarters is located in the Vedic Temple.
Playlist
Krishna Promo
Rev. Rooney & The Rocksta Choir - God Bless All The Universe
Krishna Promo
(Ad: Hush)
Krishna Promo
Sterlin - Standing On My Own
(Ad: Pizza Cake)
NEWS
Zoneboys - Amazing Grace
Ad blocker interference detected!
Wikia is a free-to-use site that makes money from advertising. We have a modified experience for viewers using ad blockers

Wikia is not accessible if you've made further modifications. Remove the custom ad blocker rule(s) and the page will load as expected.