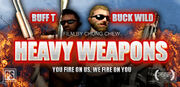 Heavy Weapons is an action movie advertised in Grand Theft Auto: Liberty City Stories. It stars Buff T and Buck Wild.
The film may be based on Lethal Weapon. The fourth part of the movie was shown the same year as that the game is set - 1998.
Trivia
See also
Ad blocker interference detected!
Wikia is a free-to-use site that makes money from advertising. We have a modified experience for viewers using ad blockers

Wikia is not accessible if you've made further modifications. Remove the custom ad blocker rule(s) and the page will load as expected.