Ad blocker interference detected!
Wikia is a free-to-use site that makes money from advertising. We have a modified experience for viewers using ad blockers

Wikia is not accessible if you've made further modifications. Remove the custom ad blocker rule(s) and the page will load as expected.
| | |
| --- | --- |
| | This article or section is Under Construction. |
"Low flying at its best! We recommend 1 lap for a quick par 3 minute race. Weave through the canals of Los Santos, over or under, and dam don't forget to pull up!"
―-Race description
Heli Low Fly Zone is Rockstar verified air race featured in Grand Theft Auto Online. It is available for up to 8 players.
This race was added on 14 October 2014 as one of 5 official Winning Selections in the Rockstar Social Club Flight School Creator Competition.
Map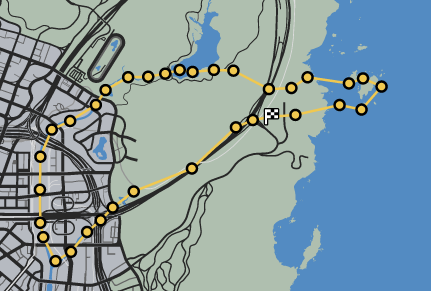 Gallery
Trivia
Links
http://socialclub.rockstargames.com/news/article/52329/rockstar-verified-update-10-new-cloud-piercing-air-races
"The introduction of San Andreas Flight School to GTA Online has arguably increased the skill of local pilots, while at the same time encouraged greater recklessness. This creation from LoneWolfOfNorth features some of the most difficult low flying sections we have seen, to the point where we wondered if it could even be classed as flying. We think that this will be a Race that many players will come back to again and again, especially to try and beat the three-minute Lap challenge laid down in the description."
— Social Club