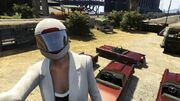 The
Helmet
is a clothing item that appears in
Grand Theft Auto: San Andreas
,
Grand Theft Auto IV
,
The Ballad of Gay Tony
,
Grand Theft Auto V
and
Grand Theft Auto Online
.
GTA San Andreas
The Helmet first appears in San Andreas. The helmet is purely a visual feature and can be purchased from ProLaps. CJ can purchase four kinds of helmets;
Boxing Helmet- $80
Full Face Helmet- $150
MotoX Helmet- $100
Helmut- $100
GTA IV and The Ballad of Gay Tony
The Helmet has a much more major role in IV. The helmet is equipped upon mounting a motorcycle. The Helmet is no longer purchasable. Niko will not equip a helmet if they start driving immediately. Once the player gets off a motorcycle, the protagonist will discard the helmet, unless the player goes to mount the bike as Niko removes it, and it will simply vanish. Some NPCs also have unique helmets, while others wear no helmet at all. All of Niko's helmets have visors.
Helmets Niko can equip:
All black
Blue fading to white and gold
White with red and blue stars
White with red and blue stripes
Helmets are purely cosmetic and offer no protection against crashes and the impact of bullets.
Despite the biker theme in The Lost and Damned, the player doesn't wear a helmet on any bikes.
In The Ballad of Gay Tony, Luis also wears helmets, and all lack visors, unlike Niko's in IV.
Helmets Luis can equip:
White, red and blue
Grey and blue
Purple and black
GTA V and GTA Online
| | | |
| --- | --- | --- |
| | This article or section is Under Construction. | |
In GTA V, the helmets are equipped like in IV. Trevor wears a unique black open face helmet, while Michael and Franklin wear the same helmets, which have different styles.
In Online the player can purchase helmets at clothes stores and Vespucci Movie Masks. Online features unique helmets such as bulletproof and heist variants.
Helmets Michael, Franklin and the Online protagonist can equip:
| Helmet Design | Featured In | Online Price |
| --- | --- | --- |
| Red w/two white stripes | V, Online | |
| Black w/skull on top, bottom jaw below visor | V, Online | |
| Black w/flame decal | V, Online | |
| Blue w/black stars | V, Online | |
| White w/red detail | V, Online | |
| Black w/poker decals | V, Online | |
| Black w/silver shatter effect | V, Online | |
| Western MC Yellow | Online | |
| Western MC Red | Online | |
| Western MC Blue | Online | |
| Western MC Green | Online | |
| Western MC Lilac | Online | |
| Steel Horse Orange | Online | |
| Matte Black Off-Road | Online | |
| Glossy Black Off-Road | Online | |
| Matte Mirrored | Online | |
| Matte All-Black | Online | |
| Glossy Mirrored | Online | |
| Glossy All-Black | Online | |