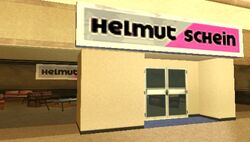 Helmut Schein is a business featured in Grand Theft Auto: San Andreas, Grand Theft Auto: Liberty City Stories and Grand Theft Auto: Vice City Stories.
Description
The nature of Helmut Schein is inconsistent between games.
In GTA San Andreas, Helmut Schein is implied to market perfume, advertising "Shine Perfume" in an avant-garde manner on the radio (similar to real-life perfume commercials in that era).
In GTA Liberty City Stories, players can find a Helmut Schein outlet in Chinatown, Portland, Liberty City circa 1998, while another Helmut Schein in GTA Vice City Stories can be found at the Vice Point Mall in Vice Point, Vice City circa 1984 on the northwestern wing of the mall besides Flyingdale's, complete with a visible but inaccessible interior.
While the Helmut Schein storefront in GTA Liberty City Stores is devoid of any interior or details to indicate its type of business, the GTA Vice City Stories Helmut Schein's interior contains sofas, coffee tables, and two counters, hinting that it may also be a furniture store similar to KLÜNT.
Trivia
Helmut Schein is a play of "Helmet Shine".