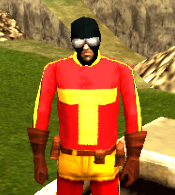 The Hero Garb (AKA Hero Costume) is an outfit in GTA Liberty City Stories. It is unlocked after completing level 15 of the Avenging Angels side-mission in Shoreside Vale. It is a hero suit consisting of a red bodysuit with yellow stripes down the sides and a large yellow "T" (which is presumably for "Toni") a yellow spandex worn over the bodysuit, brown gloves, red high-top boots, a brown utility belt, and a black mask with goggles.
See Also
Ad blocker interference detected!
Wikia is a free-to-use site that makes money from advertising. We have a modified experience for viewers using ad blockers

Wikia is not accessible if you've made further modifications. Remove the custom ad blocker rule(s) and the page will load as expected.