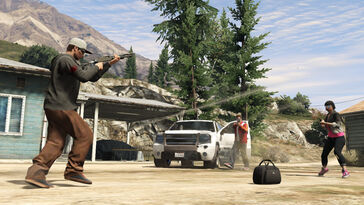 Hold is one of four Capture game modes in Grand Theft Auto Online.
Description
When playing Hold, teams must collect and store as many packages as possible in their base. Packages can either be found on the map, or stolen from the opposing team's bases. Reach the target score, or hold the most packages when the time runs out, to win.
Jobs
Rockstar-Created Maps
Rockstar-Verified Maps
See Also
Ad blocker interference detected!
Wikia is a free-to-use site that makes money from advertising. We have a modified experience for viewers using ad blockers

Wikia is not accessible if you've made further modifications. Remove the custom ad blocker rule(s) and the page will load as expected.