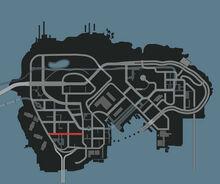 Hollowback Street is a two-way street in Fortside, Bohan that starts at San Quentin Ave and ends at Attica Avenue. The street is only a block away from Niko's Bohan safehouse. In the mission Rigged to Blow in GTA IV, Niko blows up a car repair garage that is located on the street. The garage remains in ruins after the mission as well in the games The Ballad Of Gay Tony and The Lost & Damned. 
Notable Residents
Ad blocker interference detected!
Wikia is a free-to-use site that makes money from advertising. We have a modified experience for viewers using ad blockers

Wikia is not accessible if you've made further modifications. Remove the custom ad blocker rule(s) and the page will load as expected.